Don't Delay – Register Today!
2017 NACD Summer Meeting held with the Iowa Soil and Water Conservation District Commissioner's Annual Conference and Business Meeting
July 17 & 18
Prairie Meadows Conference Center, Altoona
"Growing Conservation in America's Heartland"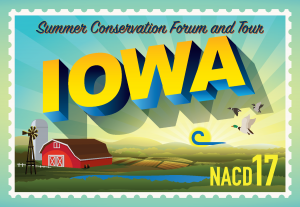 Registration forms due to NACD by June 23!
Download the Registration Form Here
Download the Draft Agenda and Tour Descriptions Here
Book your hotel today at Prairie Meadows Hotel in Altoona!
Hotel reservations can be made by calling 515-957-3000 and booking under the group block name, NACD, or by visiting https://goo.gl/ZZmUzK and using the group code, 071417NAT_001. Reservations must be made before 5PM on Friday, June 23.
Individuals that are not Iowa Commissioners, Assistant Commissioners, State Soil Conservation Committee Members or IDALS-DSCWQ Staff, please visit https://goo.gl/1OAwQU to register.