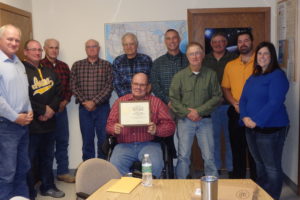 The Keokuk County Soil & Water Conservation District celebrated their 75th Anniversary on November 8, 2018 at the USDA/NRCS Office in Sigourney. Presenting the 75th anniversary plaque to the Keokuk County Soil & Water Conservation District Board Commissioners and Assistant Commissioners was Kurt Simon, NRCS State Conservationist. History of the Keokuk County SWCD was displayed with refreshments served. The District was organized on October 23, 1943 with three Commissioners. The Founding Board members were Carl Griner, Glen Sorden and Solon T. Yates. Also serving as District Commissioners were Clifford Streigle, Ben Lee, Earl Grove, Martin Rice, Arley Atwood, Raymond Klein, Keith Slater, Leon Streigle, Harold Lee, Dale Stanley, Leonard Bayliss, Lee Henry, David Flint, Donald Millikin, Laurena Hammes, Richard Swanson, Homer Kerr, Leo Sieren, Gary Bates, Larry Striegel, Clinton Mikesell and David Klein. Thirty five Assistant Commissioner have served on the board beginning in 1955. Since 1943 there have only been three District Conservationists and they were George Thornburn, Donald Borts, and Larry Stevens.
L to r: John Whitaker, Conservation Districts of Iowa Executive Director; Clint Mikesell, David Klein, Leo Sieren, Larry Striegel, Gary Bates, Kurt Simon, NRCS State Conservationist, Donald Millikin, Nick Hammes, Nick Beinhart and Susan Kozak, IDALS-Division of Soil Conservation & Water Quality Acting Director.
John Whitaker has recently been selected to serve as the Executive Director of the Conservation Districts of Iowa. Mr. Whitaker most recently served as the State Executive Director for USDA Farm Service Agency in Iowa under President Obama.
"I am honored to be working with CDI which is dedicated to conserving our soil, natural resources and improving water quality in Iowa" said Whitaker.
In addition to serving in USDA, Mr. Whitaker served ten years as County Supervisor in    Van Buren County and seven years in the Iowa House of Representative.  During his legislative service, he served two years as an Assistant Minority Leader and three years as an Assistant Majority Leader. He also served three years as Vice President, and nine years as President of the Iowa Farmers Union.
"We are thrilled to have someone with John's conservation ethic and public service background join CDI" stated Alex Schmidt, President of CDI.
John continues to be actively engaged in their family farm operations with his brother Bruce and son Gabe. They raise corn, soybeans, wheat, oats, rye, and hay by no till methods. They feed hogs for Niman Ranch in a deep bedding system and have a cow/calf herd.
John and his wife Lorrie are both graduates of ISU along with their three children Gabe, Daniel and Becca. He is active in both the Hillsboro Baptist Church and First Baptist Church in Ames.  John is also active in his local Masonic lodge, Order of the Eastern Star, Pheasants Forever, and serves as chair of Veterans in Agriculture (John is a non-veteran member).
The mission of CDI is to inform, educate and lead Iowans through our local soil and water conservation districts to promote conservation of our natural resources.  CDI is the nonprofit umbrella organization representing the 100 local soil and water conservation commissions and the 500 locally elected commissioners who make up those local commissions.